With only sealer and stain, you can see a dilema that was reached with this piano that is worth describing as just one of the forks in the road refinishers of old steinways face. The legs are all maple underneath a finish that was "feauxed", or faked, at the factory to look like the mahogany above. Mahogany could have been used for them and, as I understand it, it sometimes was, but more commonly maple was selected in legs for its strength and then either ebonized or had done to it what was done here.
A refinisher may either retain the original feaux and deal with the years of aging, cracking and darkening, by cleaning them with a solution and then rubbing them in a process that solves the remaining lacquer and somehow smoothes it again, or they may simply take the leg down to bare wood which guarentees a cleaner surface look, but puts them back in the position of having to make maple, whose color let alone grain, is nothing like mahogany.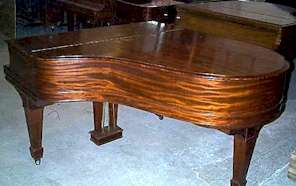 Here is a shot of what I think is ribbon, or straight cut, mahogany. I believe I've also heard the origin of this veneer being Africa. You can now see how different at least these two varieties of the same wood are.
Anyone who feels they know better is welcome to correct me and I'll adjust the site.
Adjusted 4/20/03